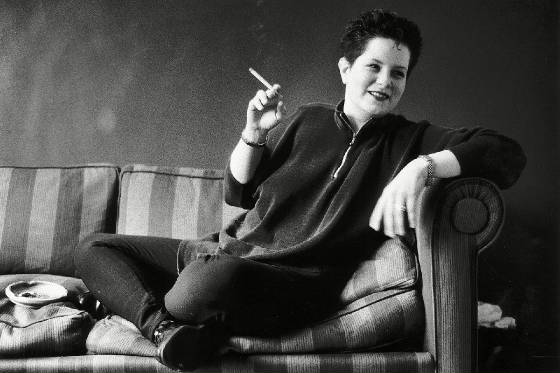 Their eyes meet for a moment, before CAROL rummages inside her purse again. She produces a billfold, opens it, shows it to THERESE. It's a photo of RINDY, CAROL'S 4-YEAR-OLD DAUGHTER.

THERESE
She looks like you. Around the mouth. The eyes.

CAROL
(glancing at THERESE)
You think so?

THERESE looks up, clocks CAROL watching her, looks down. A bit of an awkward moment that CAROL rescues:

CAROL (CONT'D)
So what did you want? When you were that age?

THERESE
(no hesitation)
A train set.

CAROL
Really. That's a surprise.
(beat)
Do you know much about train sets?

THERESE
I do actually. And there's a new model, just in last week. Hand-built with hand-painted cars - it's a limited edition of five thousand, with the most sophisticated electric switching system - it's quite...

THERESE checks her own enthusiasm, noticing CAROL'S eyes on her.

THERESE(CONT'D)
You may have seen it. Over by the elevators? Just there-

THERESE points towards the train set and CAROL turns to look, mulling it over. THERESE watches her every move.

CAROL
(turns back to THERESE)
Do you ship?

THERESE
Special delivery. Or courier.
(beat)
You'll have it in two, three days. Two days. We'll even assemble it.

CAROL
Well. That's... that. Sold.

They stand there, nodding at each other for a moment.

CAROL (CONT'D)
Shall I pay now?

THERESE
Oh - yes, of course.

THERESE begins writing out a sales slip, then slides it over to CAROL with a pen, glancing up at her. CAROL snaps out of a brief moment of thought, a distance.

THERESE
(CONT'D)
We'll need your account details, your shipping address.

CAROL
Of course.
(she begins writing)
I love Christmas. At least I love the preparation. Wrapping gifts, all that. And then... you somehow wind up overcooking the turkey anyway.

She finishes, flashing a bright smile. THERESE doesn't quite follow her, but she doesn't want CAROL to stop talking.

CAROL (CONT'D)
Done.

CAROL hands the pen and sales slip back to THERESE.

CAROL (CONT'D)
Where'd you learn so much about train sets, anyway?

THERESE
I - read... Too much, probably.

CAROL
It's refreshing. Thank you.
(beat)
And Merry Christmas.

THERESE
Merry Christmas.

CAROL walks away. THERESE watches her, takes her all in - her manner, her style, her walk. CAROL turns back for a moment, and points to THERESE'S cap.

CAROL
I like your hat.
1. Carol (screenplay by Phyllis Nagy, based on the novel The Price of Salt by Patricia Highsmith) [119 points / 19 votes]
2. Anomalisa (screenplay by Charlie Kaufman, based on his play) [107/18]
3. Spotlight (written by Tom McCarthy and Josh Singer) [89/14]
4. The Hateful Eight (written by Quentin Tarantino) [88/14]
5. Inside Out (screenplay by Pete Docter, Meg LeFauve, Josh Cooley; story by Pete Docter and Ronnie Del Carmen) [82/14]